Ikea Kitchen Assembly, Mounting and Installation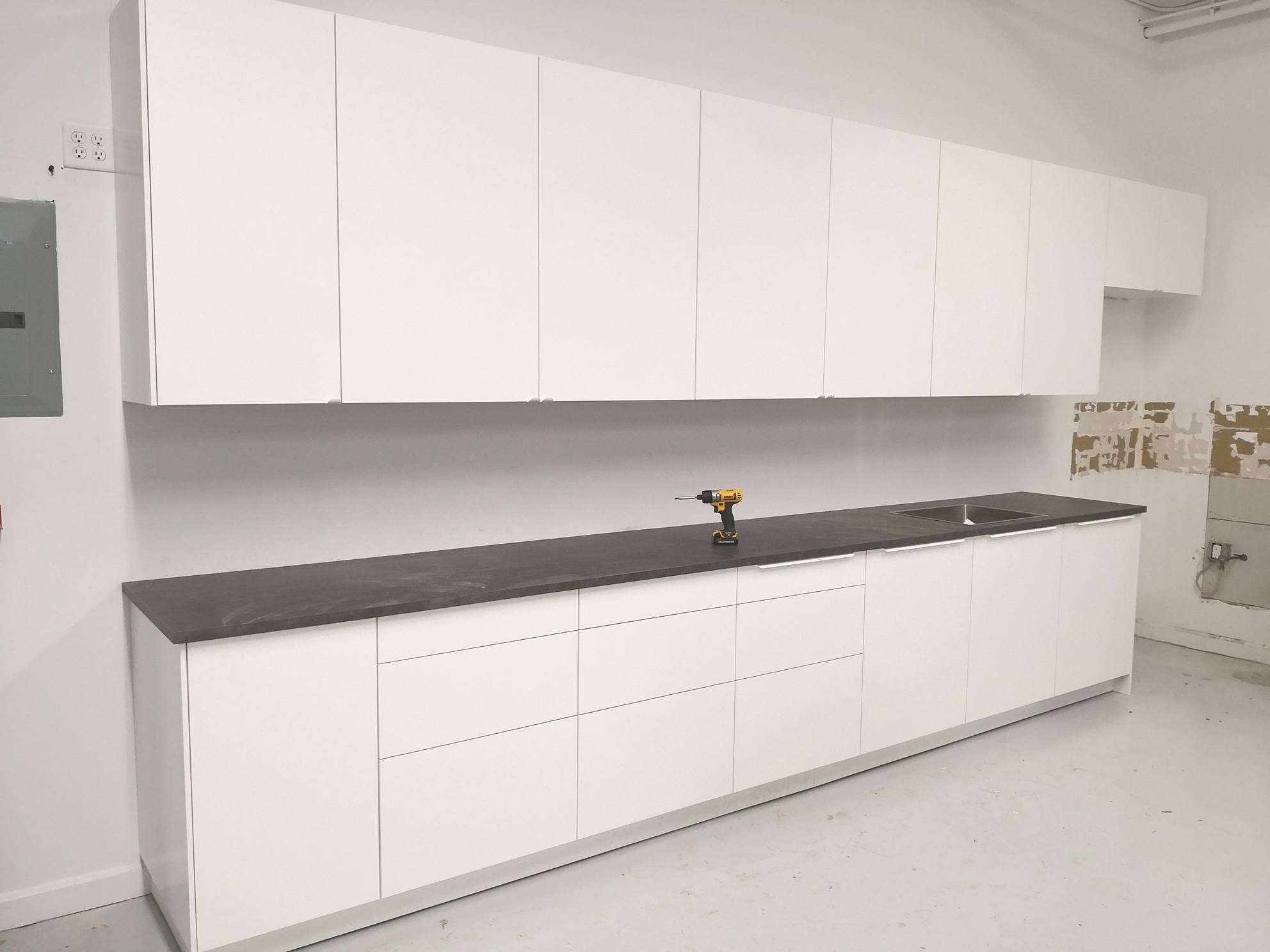 When it's time for modernizing and reorganizing your kitchen space is coming, rest assured that installing IKEA kitchen is a good option. They look equally beneficial in both small and spacious kitchen rooms. Among the main advantages are:
compactness, ensuring the rational use of every square inch of usable space;
functionality, as they are equipped with a large number of shelves, drawers, and cabinets;
ergonomics, that allows creating a comfortable working area for the hostess;
the ability to equip a dining area or an additional working area.
Our skilled team of IKEA kitchen installers near me offers the following services to our customers through all phases of a kitchen project
Measurement and design consultation to optimize your space
Removal of your old kitchen
CUSTOMIZATION AND ASSEMBLY:
Customization for installing IKEA kitchen cabinets and paneling, including cutting and adjustments to width, length, and depth
Custom countertops (butcher block), including cutting for sinks, stovetops and appliances
Customization to accommodate circuits, pipes, and any unique features
MOUNTING AND INSTALLATION:
Cabinet mounting for any wall type – concrete, brick, drywall, and more
IKEA kitchen cabinet installation includes all doors, drawers, handles and decorative elements
Installation of custom panels for refrigerators, dishwashers and select appliances
Installation of deco fillers, including custom fillers and toekicks (base cover)
Lighting installation ( electrical work is not included)
QUALITY CHECKS AND COMPLETION:
Final walk-through to ensure proper and complete installation of all features
Clean-up of work area post-installation
Our customers often ask us to assemble kitchen components from different manufacturers. This can pose a challenge in ensuring all elements fit together nicely. Please note that any required customization will affect IKEA kitchen installation cost, as well the overall price of your project.
We do not perform electrical or plumbing work associated with the installation of appliances such as sinks, stoves, refrigerators, etc.
Before choosing and installing IKEA kitchens it is necessary to admit that they all have certain aspects based on four design lines:
Junior style (mainly aimed at middle-aged consumers, as well as self-sufficient young people, and most often characterized by rich colors and creative designs).
Modern style (the most focused on people who value comfort, and also adore modern trends and innovative materials in the interior).
Country style (this designer solution most often is presented in woody tones and it is focused on those who admire natural shades).
Scandinavian style (traditional snowy white, this cold style is oriented at people preferring to install IKEA kitchen of classic interior).
Also, these kitchens feature excellent quality of the materials used and reliable and durable fittings. They are as durable as long as possible and do not lose their presentable appearance. An excellent kitchen can rightfully be called the one that will help the hostess solve any problems as efficiently as possible and with less energy consumption.
For example, convenient storing food and items in a small space, the availability of all elements, containers, foodstuff when it is necessary, and so on. Design developments and constructors from IKEA were able to make the interior equipment of kitchens truly unique, ergonomic, and convenient.
Thanks to this solution, it would seem that the most ordinary dish drawer is actually an excellent organizer with compartments for any kitchen utensils, even for seasonings. The shelves, which are located at different levels, will be appreciated by the hostesses because they will make it possible to find the necessary cutlery at any time and in a matter of seconds. Therefore, if you decide in favor of kitchen installation IKEA, you are unlikely to regret your choice.
The truth is that putting in a new kitchen can be a daunting task. Let the experienced professionals of Masters of Assembly take care of it for you.
Commercial and Residential Warranty for 100 days